WE ARE DRIVEN BY THE SPIRIT OF DISCOVERY:
Seeking out beautiful textiles and leather to create thoughtfully-designed bags and accessories

LIMITED EDITION BAGS, each HANDMADE FROM UNIQUE FABRICS with LOVE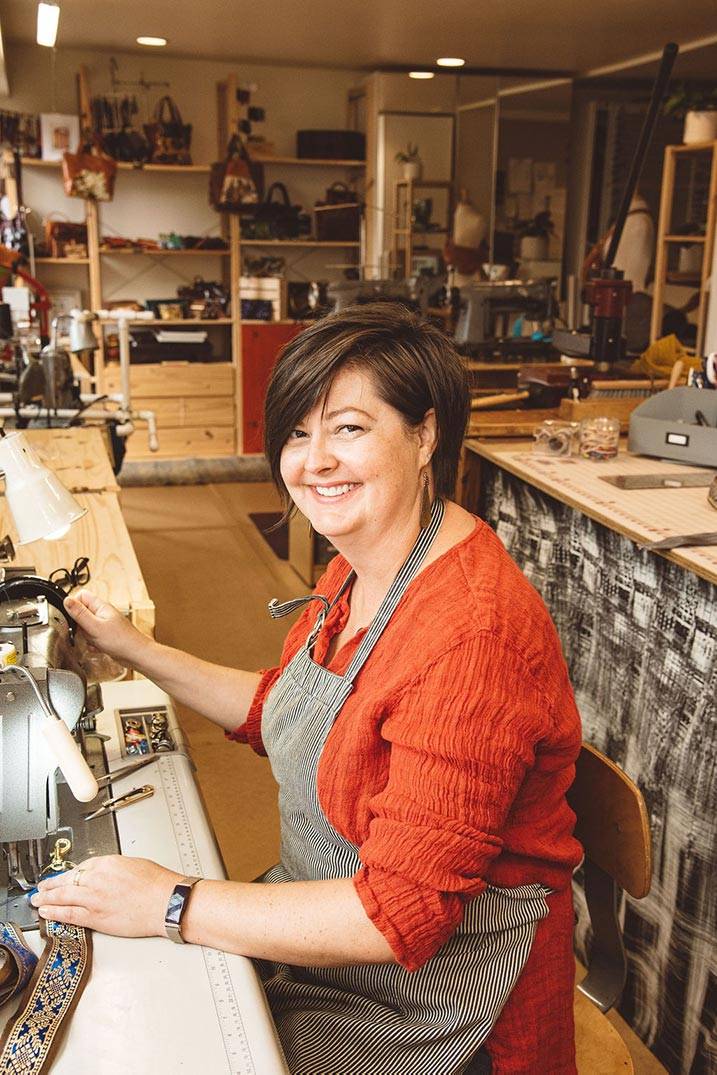 For nearly 20 years, Crystalyn Kae has created original handcrafted bags and accessories made from ethically­ sourced and reclaimed materials here in the USA.

Founded in Seattle in 2001 by Crystalyn Kae Brennan, who had become disillusioned by mass-production in the fast-­fashion world. In the era of Prada knockoffs and cookie-cutter Coach bags, she saw a need for unique yet practical bags that didn't look like everyone else's.
Her first collection of handbags was made from a warehouse stash of vintage plaid pants, which she sold to stores in Seattle, San Francisco, and New York. Ahead of her time, in sustainable fashion, Crystalyn had unknowingly established herself as a pioneer in the sustainable fashion movement.
Crystalyn Kae Accessories is one of the few companies in the world that incorporates up-cycling practices into their design process. We create for those with a socially conscious style and a passion for creating stories of their own.

Crystalyn's bags can be purchased here on her website, by visiting her Seattle studio, and at boutiques across the USA.

SCHEDULE A VIRTUAL APPOINTMENT
Did you know you can also book a virtual appointment? Book a time in our calendar and you will have a chance to see the bags you are interested in, from any side. Not to mention ask specific questions about its pockets, zipper, material etc.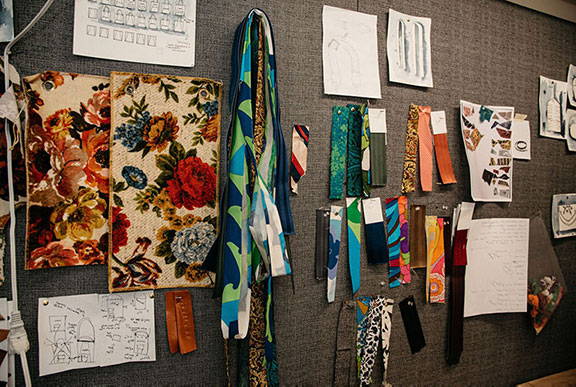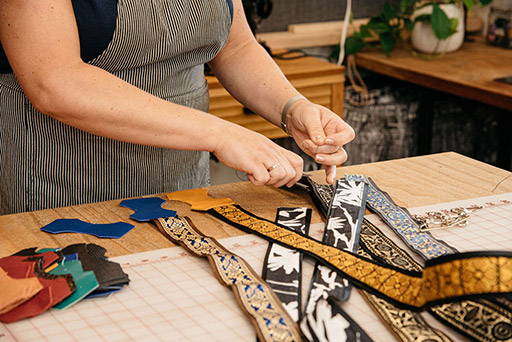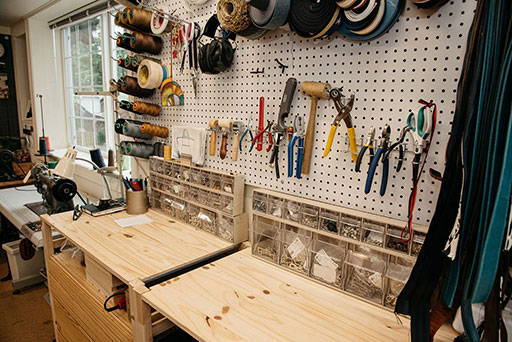 I AM INSPIRED BY REPURPOSING LUXURIOUS MATERIALS INTO DESIGNS THAT WILL STAND THE
TEST OF TIME. . .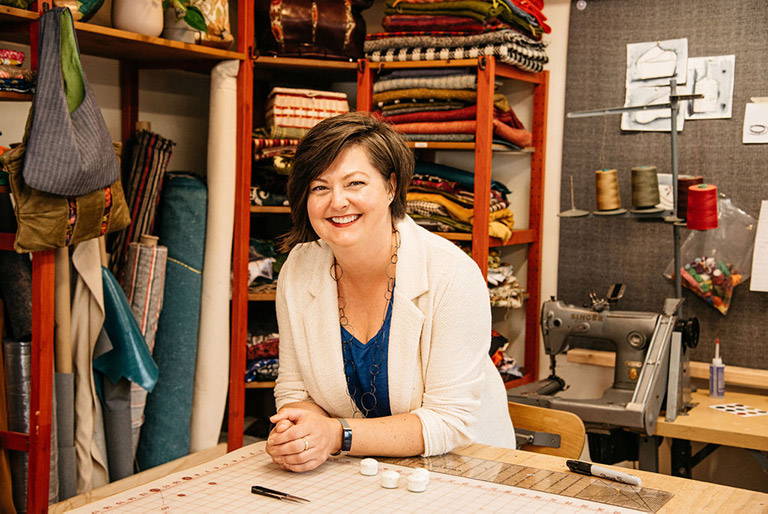 My first encounter with the magic of unconventional style began at an early age. I spent most summer Saturdays with my grandfather Jack. Dressed to the nines with his own odd flair for fashion, mixing red plaid with yellow argyle, paired with white perforated leather shoes and matching belt, Grandpa's effortlessly off-putting way of mixing prints resonated with my 5 year old self.  
By my teens, I could be found working with my dad - learning how to restore 1960's-era muscle cars. We'd find a diamond in the rough: then spent every spare moment wet-sanding, painting and my favorite: re-upholstering. It was around this time that I took my first Home-Ec class, and instead of following the assignment of creating pajama pants - I chose to make a duffle bag with zipper.
After earning my degree in Apparel Merchandising and Textiles, with a year abroad doing a life-changing internship at Liberty of London, I found a way to meld my love for retro upholstery, with Grandpa's anachronistic pattern-mixing influence. I launched my first collection of handbags in 2001. Which I took door to door to boutiques in Seattle, San Francisco and New York- and a company was born.
Today, 20 years later, I design and lead production for Crystalyn Kae Accessories, splitting my time between my Seattle workshop and production partners in New York City's Garment Center. I glean inspiration from an array of artful materials: opulent velvets, textural tweeds, and naturally bold ethical leather, with an emphasis on sustainability.
In my *spare* time I am obsessed with restoring vintage industrial sewing machines, gardening, drawing and hunting for fabrics at vintage shops and flea markets across the USA. I also offer one-on-one consultations for select small businesses and teach workshops to entrepreneurs, which you can learn more about here.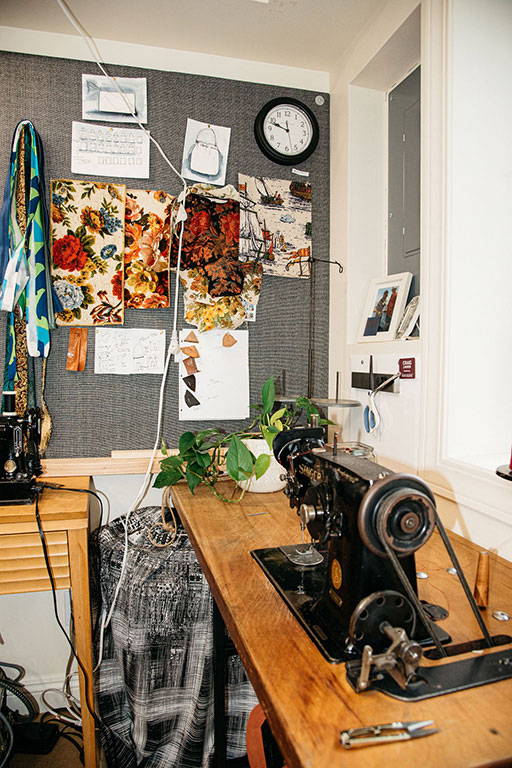 Sustainability is a word that can get overused, but to us it means striking the balance of using the best materials available, making long-lasting products, that will make the least impact on our planet.

We consider:
l) how our designs ore made
2) what materials they're made from
3) who makes them
4) how long they'll lost

We are a woman-owned company making high­ quality, reliable bags that fit into busy women's lifestyles.

We believe in paying women a fair wage, sourcing materials from other women-owned businesses
and mentoring the next generation of female entrepreneurs through internships and speaking engagements.

All of our purses start and finish in our Seattle studio, where we also offer customizations and repairs of our bags.

We are committed to local manufacturing and personally collaborate with sewing contractors in New York City's Garment Center, and Seattle's SoDo neighborhood.