WE STRIVE TO CREATE SUSTAINABLE AND DURABLE BAGS
Learn how Crystalyn Kae bags are made

All of our products start and finish in our Seattle studio.
Crystalyn Kae bags are sustainably made with love. We also offer customizations and repairs for our bags.
Each bag is made to last years using quality materials. Most bags are waterproof and machine washable.
Vintage and upcycled materials
All of our bags are made either from eco-friendly or upcycled materials.
Each unique design is driven by our creative spirit and our dedication to thoughtful manufacturing.
HOW CRYSTALYN KAE BAGS ARE MADE?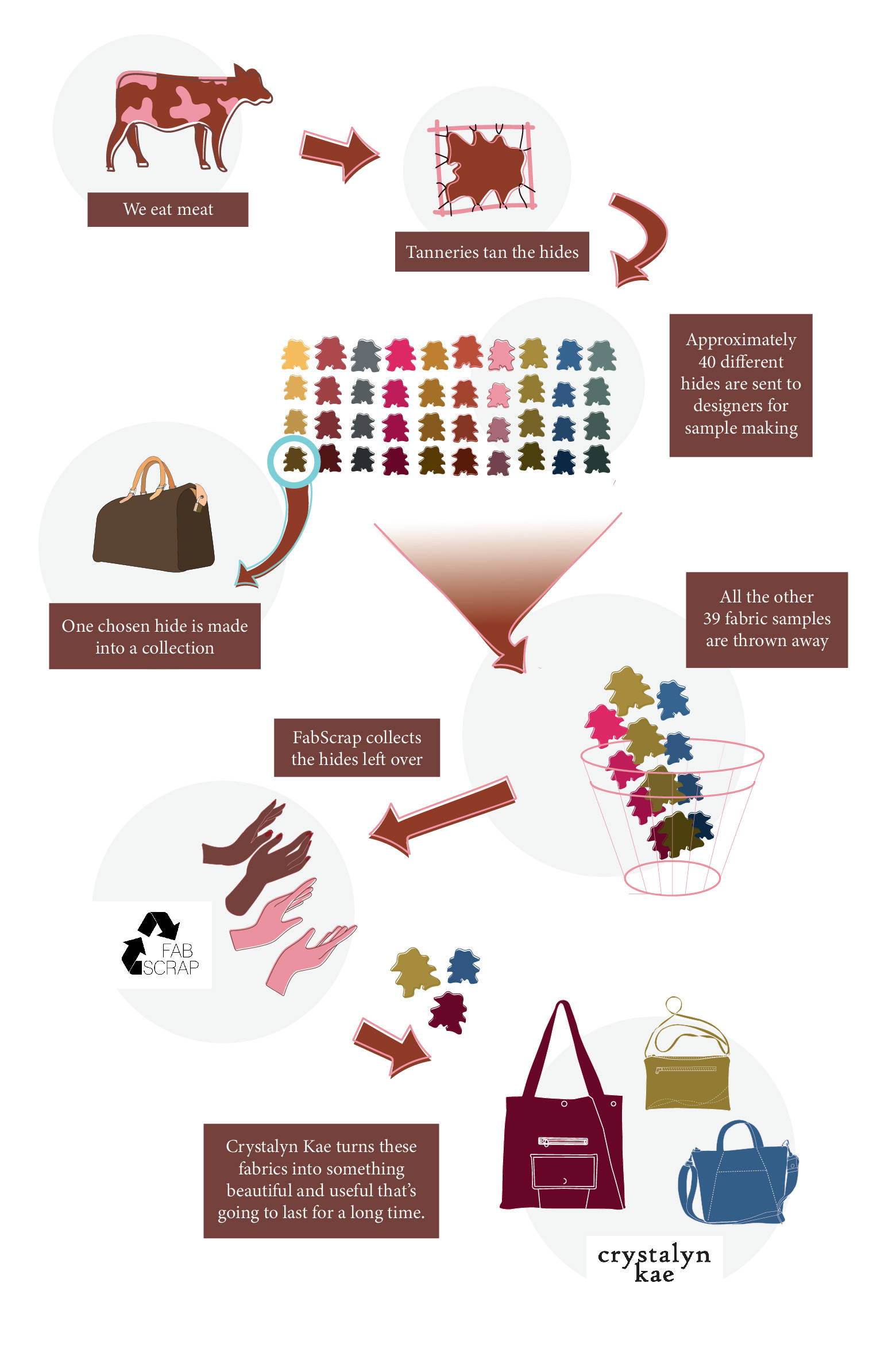 Upcycling is where we find the inherent creativity in sustainability.
WHAT DO ECO-FRIENDLY HANDBAGS MEAN TO US?
Quality craftsmanship and thoughtful manufacturing are core to our values at Crystalyn Kae. Leather is a very long-lasting material, it can last thousands of years. So, why should we produce new when we can up-cycle? We bet on this perfect equation: long lasting, high grade reclaimed leather paired with original but timeless designs to offering gorgeous reliable life companions.
There is no doubt that using vegan leather for handbags is less polluting than creating with new leather, however what consumers and designers aren't considering is that creating with reclaimed unused leather is 100% less polluting than vegan leather.
By giving reclaimed leather a new life, we can meet the demand for leather handbags in an ethical way.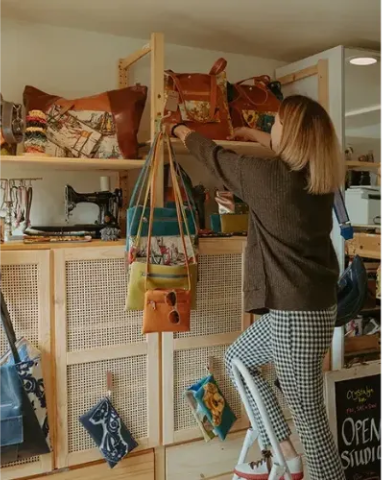 CRYSTALYN KAE BAGS ARE MADE FROM THESE MATERIALS
GLAZED VEGAN LEATHER MATERIAL
Our vegan handbags and accessories are made from a
luxurious water-resistant, machine-washable, glaze-coated
canvas that develops a soft, leather-like patina over time.

We choose to work with this material because it is extremely
durable and long-lasting, which means that your vegan leather
handbag will remain beautiful and useful as it withstand spills,
scrapes, and everyday use.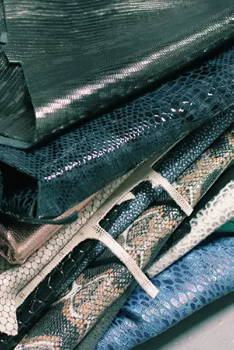 RECYCLED LEATHER MATERIAL
Crystalyn Kae uses upcycled textiles to make eco-friendly handbags in the USA.

Giving unused materials new life has always been core to what
we do. Upcycling diverts textiles from the landfill while
allowing us to reduce our demand for natural resources and
energy use in the production of new materials.

Upcycling is where we find the inherent creativity in
sustainability. We love the joy of discovering rare treasures
amongst brocade and jacquard upholstery samples, reclaimed
leather, and vintage fabrics.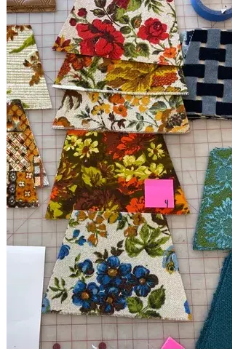 Crystalyn has long been inspired by vintage textiles and the art of making things.
Our limited-edition bags incorporate a variety of mill-end and dead-stock fabricks, and even occasionally upcycled materials from vintage clothing!
Our limited-edition bags are ethically made in the USA from upcycled and sustainable materials.
Designed for versatility and durability, Crystalyn Kae handbags are beautiful, practical, and perfect for everyday use.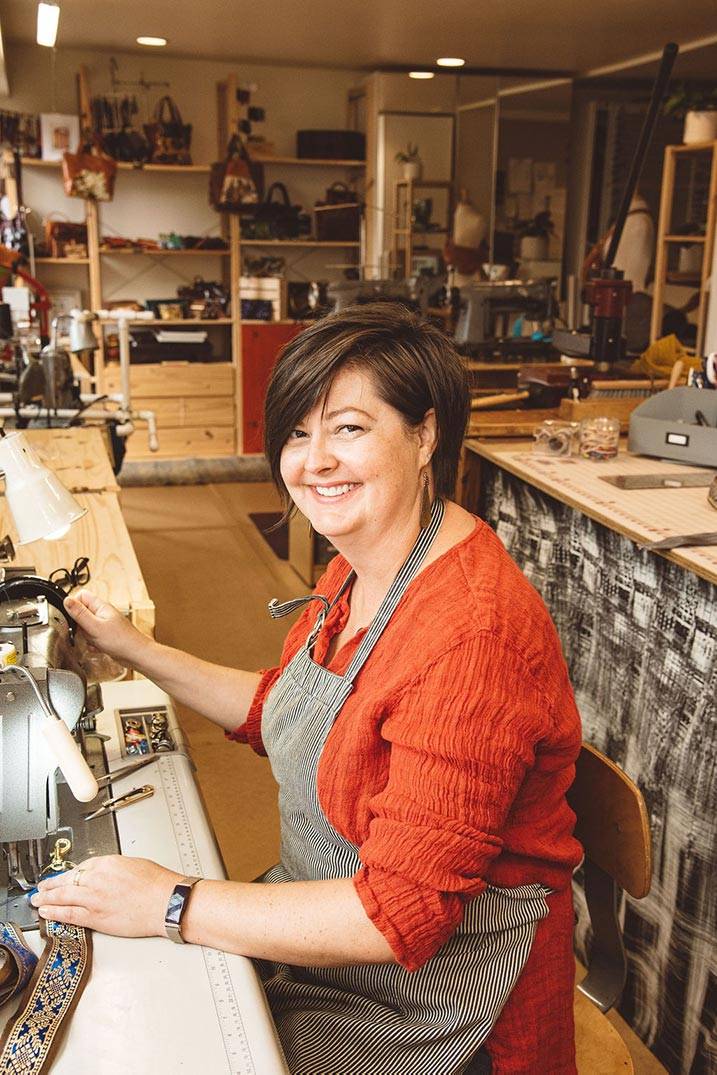 For nearly 20 years, Crystalyn Kae has created original handcrafted bags and accessories made from ethically­ sourced and reclaimed materials here in the USA.

Founded in Seattle in 2001 by Crystalyn Kae Brennan, who had become disillusioned by mass-production in the fast-­fashion world. In the era of Prada knockoffs and cookie-cutter Coach bags, she saw a need for unique yet practical bags that didn't look like everyone else's.
Her first collection of handbags was made from a warehouse stash of vintage plaid pants, which she sold to stores in Seattle, San Francisco, and New York. Ahead of her time, in sustainable fashion, Crystalyn had unknowingly established herself as a pioneer in the sustainable fashion movement.
Crystalyn Kae Accessories is one of the few companies in the world that incorporates up-cycling practices into their design process. We create for those with a socially conscious style and a passion for creating stories of their own.

Crystalyn's bags can be purchased here on her website, by visiting her Seattle studio, and at boutiques across the USA.
BEST. BAG. EVER.
I love my hobo! Perfect size, so beautifully crafted. Really can go with you anywhere. Material is fabulous.
Can't wait to buy more Crystalyn Kae bags!
Alana from Toronto, Ontario
I don't have to worry about 'babying' it!
The material is exceptionally smooth and attractive, and i don't have to worry about 'babying' it. my friend has one of her bags and she is SO hard on hers and it still looks great. I expect mine will too!
Love the design and construction!
LOVE my new purse. I've used it a lot over the past few months and it has held up well and gotten lots of compliments. The design, buttery soft material, and construction are excellent.